WALKER RIVER PAIUTE TRIBE CANAL 2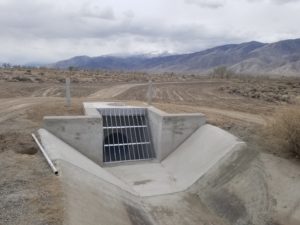 In late 2017, T&T Construction, Inc. was hired by the Walker River Paiute Tribe in Schurz, Nevada, as Construction Manager at Risk to provide design and construction services for the rehabilitation of the existing WRPT Canal 2, located 2½ miles south of Shurz, Nevada. This canal is a component of the Walker River Indian Irrigation Project (WRIIP).
We were chosen for this project because of our history with, and successful completion of, numerous CM@R projects over the course of our company's existence. Working within strict time constraints due to the annual dry-up periods, the project was brought in for a cost lower than our original Guaranteed Maximum Price (GMP).
Our design work consisted of independent cost estimating; explorations of construction conditions in the geographic area; planning and scheduling for construction; providing value engineering and constructability studies; providing alternative systems evaluations, protecting WRPT's sensitivity to quality, safety, and environmental factors; submitting a GMP; and submitting the required bonds and insurance.
Once the design work was completed and our GMP accepted, we constructed the project, which consisted of installing 4,361 linear feet of 48" PVC C-300 DR 51 80 PSI pipe, a 42" DIP installation at the Hawthorne Army Depot Railroad, PVC Tee Manholes, and numerous turnout structures.
(Click for larger image)