PAYSON RAW WATER PENSTOCK PHASE 1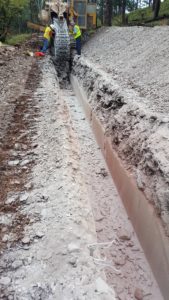 This project involved the installation of 16,550 linear feet of 18" Class 250, restrained joint DIP and 13,000 linear feet of 18" restrained DIP of classes 300 and 350. We also installed 2 18" high pressure butterfly valves, 28 4" high pressure combination air/vacuum release valves, and an impressed current cathodic protection system. The project involved extensive trenching activities and a river crossing.
Because the project was located in a rocky, mountainous area north of Payson, AZ, we employed a Vermeer T1155 model trencher to install the pipe at the depth required by the engineer specifications. The pipeline also traveled through a highly forested area, requiring special attention to protected area flora and fauna.
(Click for larger image)